Container Shipping Seals
This article provides you basic information about container shipping seals. The objective in using these seals is to minimize the risk of unauthorized access into the container thereby reducing the risk of cargo pilferage and the introduction of contraband.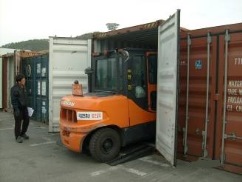 Immediately after a container is stuffed, a high security seal must be applied and the seal number documented.
When the loading inspection is on the scope of the third party inspection company, then the inspector must witness the safe loading of the goods and also witness the sealing of the container.
The inspector must record the seals number in his inspection visit report.
When the buyer opens the letter of credit and agrees with the seller on third party inspection, then loading a inspection will be in the scope of the inspection.
When the loading carried out and inspected by third party Inspection Company, the seller must send the shipping document to the inspection company. One of these documents is the bill of lading (BL), which contains seal numbers. The inspection company must check these numbers in the BL with the numbers record in the inspection report.
High security seals are considered to be barrier seals. High security seals are used for industrial goods and made from very strong metal.
Container Shipping Seals - Openning 
For opening these seals bolt cutters is needed. The cable and bolt seals are considered to be in these classifications.
These are intended to prevent opportunistic theft and any terrorist tampering and often times, they are branded and numbered for tamper resistance and excellent security.
Many governments mandated that importers secure their containers with high security seals that meet ISO/PAS 17712 standards.
Related Articles
Third Party Inspection, Third Party Inspection Services, Third Party Inspection Agency,Third Party Independent Inspection, Third Party Quality Inspection, Industrial Inspection,Shop Inspection, Factory Acceptance Test, Industrial Quality Control, Inspection scope,Industrial Test Systems, Commodity Inspection Services, Vendor Inspection Services, 3rd Party Shop Inspection, Goods Inspection Services, Third Party Inspection Expediting,Contractors Quality Control Plan, Quality Control Manual for Contractors, Quality Control Forms, Approved Vendor List
---
Return from Container Shipping Seals to Preshipment Inspection
Return from Container Shipping Seal to Inspection for Industry Home
---
Did you find this article useful? Click on below Like button!