Online API 510 Training Course - Pressure Vessel Inspector with Money Back Guarantee 


I4I Academy provides online API 510 training course - API 510 Pressure Vessel Inspector- for Exam Preparation and is available online all over the world. Our Students Pass Rate in the API 510 Exam is 94.6 %
With our money back guarantee, if you do not pass your API 510 exam, we will refund your money back to you, no questions asked. However, you must perform all course assignments! 

Online API 510 Video Training Prep Course 
Full Package  
Pass the API 510 Exam on First Try
More than 30 Hours Video sessions (In-Person Style & PPT Voice Over Style both are available) 
Comprehensive Course Handout 
1000 Practice Exam Questions (Quiz Question Banks)
Timed Final Exam (Mock-up Exam)
Online Comfort, log on and work on the course whenever you want
60 Hours PDH (Profesional Development Hour) Toward 9 Year Certificate Renewal for American Welding Society (AWS) Certified Welding Inspectors 
60 Hours CPD (Continuing Professional Development) Hour Toward 3 year API 510, API 570, and API 653 Recertification (Applicable after Jan 2023)
60 Hours Training credit Toward 6-Year Certificate Renewal for Candian Welding Bureau Certified Welding Inspectors 
Technical Support (If help needed during the study)
4 Month Access
I4I Academy Certificate 
48 Hours Money Back Guarantee
When you completed each video session and reviewed the corresponding handout, then you are connected to the practice question portal. You are going to answer the questions for each code section. The system lets you know if your answer is correct or wrong and provides you with code reference that question being taken.
You are going to take a final exam at the end of the course (50 questions open book and 100 questions close book similar to API 510 exam) and receive a certificate from I4I Academy (if you passed the exam). You can take the exam multiple times until you pass the exam. 
This online API 510 training course with the video training sessions and practice exam questions will prepare you to take the API 510 Pressure Vessel Inspector exam and pass the exam.

Question? Contact I4I Academy, or Call 1 (949) 383-0564
Check Out Our Youtube Channel Videos
One-Time Payment  499.00 USD
Any problem with the enrollment process? If the credit card payment fails, let us know to fix it. Contact Us!
For PayPal Payment Contact Us. 
Risk-Free (Money-back guarantee): You can return this training course up to 48 hours from the time of payment!
With our money back guarantee, if you do not pass your API 510 exam, we will refund your money back to you, no questions asked. However, you must perform all course assignments! 
 If you had a little time to study and did not pass the API exam, you can have this course for another 4 months without any additional charge!
However, if you think you do not API 510 training and only need practice exam questions, you may purchase only API 510 Practice Test and Exam Questions Package.   
Highly recommend getting the full package (API 510 Training) since you might struggle with ASME Section VIII Div.1 and IX and API 510 questions. 
Half Package: 
1000 Practice Exam Questions
Timed Final Exam (Mock-up Exam)
4 Month Access

One-Time Payment  349.00 USD
A sample Video for ASME VIII Div.1 - Impact Testing Exemption
Another Sample Video!
A sample Video for API 510 Problem Solving Practice
Another Sample Video for Calculation!
Portal Demo Presentation for API 510 Open Book Question 
Portal Demo Presentation for ASME IX Open Book and Close Book Questions
I4I Academy Certificate for API 510 Training Course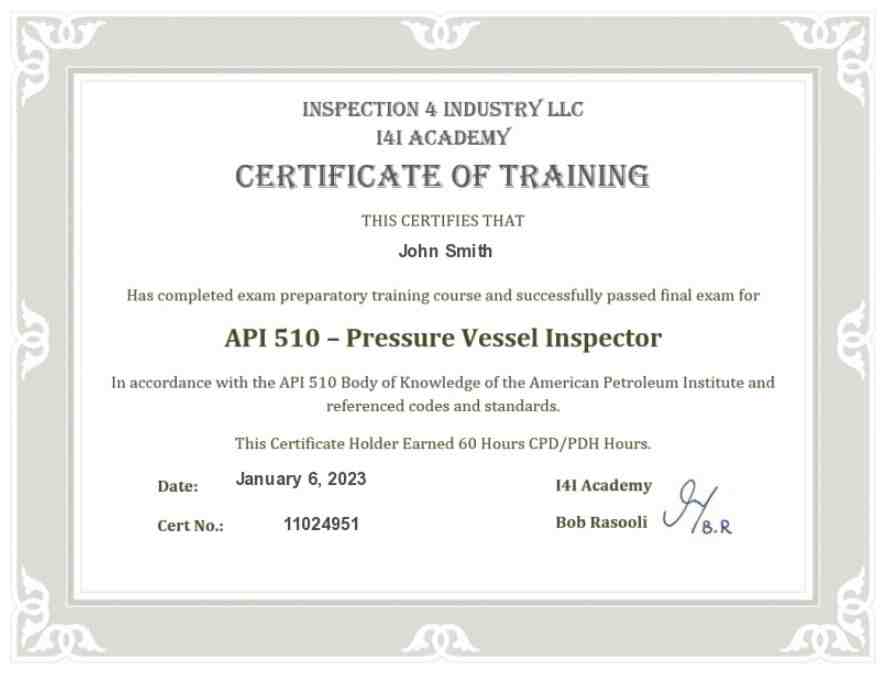 Testimony;
Daniel. D Houston , Texas 
I completed the API 510 exam training course through I4I academy.  The presented body of knowledge by I4I Academy very comprehensive with detailed explanations.  His visual training aids, including an actual pressure vessel, was very helpful.  I would recommend this course to anyone interested in perusing the API 510 certification. I plan on taking his API 570 course next.
Khashayar. Y  Cologne ,  Germany
I took two online video training courses by Inspection 4 Industry LLC; API 510 Training Course and API 570 Training Course. 
I4I Academy has prepared videos in which he describes all main and essential aspects of related standards and exams in the best possible way. He explains everything in detail and covers all subject of the API 510 and API 570 exams. Undoubtedly Bob Rasooli is one of the best in teaching and preparation training for API exams. In addition to videos, each course consists of numerous questions and examples which helped me a lot to pass both of my exams. I highly recommend these training courses.
Ethan. P -Salt Lake City, Utah
I4I Academy's API 510 online training course was an absolute game-changer for me! From start to finish, the course was well-structured and expertly designed to prepare aspiring professionals for the API 510 exam. The instructors were highly knowledgeable, and Bob Rasooli, in particular, did an outstanding job. His in-depth explanations and real-world examples made complex topics feel approachable. With the help of I4I Academy's course, I not only gained a deep understanding of the subject but also successfully passed the API 510 exam with confidence. I am immensely grateful to I4I Academy for their top-notch training program, and I highly recommend it to anyone looking to excel in the field.
Travis. C – Houston, Texas
I4I Academy's API 510 online exam preparatory course exceeded all my expectations, and I can't thank them enough for my success! The course was meticulously designed, covering every aspect of the API 510 exam in a clear and concise manner. The study materials were comprehensive and well-organized, making it easy to grasp even the most complex topics. With the unwavering support of the instructors and the invaluable resources provided, I felt fully prepared and confident heading into the exam. I am thrilled to say that I passed the API 510 exam, and I owe it all to I4I Academy's exceptional course. If you're considering pursuing the API 510 certification, look no further – this course is an absolute must!
Tyler. M – Lafayette, Louisiana
I4I Academy's API 510 online exam course was an outstanding experience that played a pivotal role in my exam success! The course's content was comprehensive and incredibly well-structured, covering all the essential topics in detail. The unique and great aspect of the course was the video sessions, where the instructors brought the material to life with engaging presentations and practical demonstrations. With the unwavering support and expertise of the instructors, I felt thoroughly prepared and confident when taking the API 510 exam. Thanks to this fantastic course, I passed with flying colors. I wholeheartedly recommend I4I Academy to anyone seeking to excel in the API 510 certification – it's an invaluable resource that truly makes a difference!
Benjamin. M Buffalo, New York
I can't praise I4I Academy's API 510 online exam preparatory course enough! The practice question section was absolutely terrific and proved to be an invaluable resource in my exam preparation. The questions were well-crafted and closely aligned with the actual API exam, allowing me to familiarize myself with the format and difficulty level. Thanks to this exceptional preparation, I felt completely confident when I sat for the API exam, as I had already encountered similar questions during the course. I4I Academy's dedication to providing high-quality study materials and practice resources truly sets them apart. If you're looking for a reliable and effective way to succeed in the API 510 certification, I highly recommend I4I Academy's course - it's worth every penny!
Course Syllables
API 510 Training - ASME Included Code Sections
Following  subjects are covered in ASME section VIII Div. 1 (Rules for Construction of Pressure Vessels):

Hierarchy of application
Laws & Regulations at the location of installation
ASME - Boiler & Pressure Vessel Code
National Board Inspection Code   NBIC
Construction Code Vs Referenced Codes
Manufacturer Certificate of Authorization
Authorized Inspection Agency 
Manufacturer responsibility and Quality Control
User Responsibilities 
The scope of Section VIII Div.1, 2 and 3
The Subsection of VIII Div. 1 (A, B and C)
Material Requirements
Design of Pressure Vessel (Wall thickness calculation)
Static Head Calculation
Maximum Allowable Working Pressure (MAWP) and Part MAWP
Joint Category and Weld Types
Special Services
Pressure Vessel Openings
Impact Testing Requirements (Evaluation for exemption and performance)
Fabrication and Welding Requirements and Tolerances 
Post Weld Heat Treatment Requirements
Non Destructive Testing Requirements (RT, UT, MT and PT)
Hydrostatic and Pneumatic Testing Requirements
Name Plate and ASME Marking
Manufacturer Data Report and NBIC Registration
Miscellaneous Requirements
Following Topics are covered in ASME Section IX (Welding Qualifications)

API 510 Training - ASME V Content (Nondestructive Examination)

Article 1 - General Requirements
Procedural Requirements
Personnel Qualification Requirements 
Article 2 - Radiography 
Backscatter Requirements
Density Limitation
Image Quality Indicator requirements and selection
Radiography Techniques / Requirements
Geometric Unsharpness Requirements
Reporting Requirements
Article 6 - Liquid Penetrant Examination
Detectable discontinuities
Surface Cleaning Requirements
Temp Limitation 
Control of Contaminations
Penetrant Types (Visible and 

Fluorescent

)
Type and Categories (Water washable, Post emulsifying, Solvent removable)
Developer Application Requirements
Evaluation Requirements
Blacklight Requirements
Reporting Requirements
Article 7 - Magnetic Particle Examination
Detectable discontinuities
Cleaning Requirement 
Temp Limitation
Surface Contrast 

Enhancement  

Requirements
Different techniques i.e Yoke, Prod and corresponding requirements
Visible and Fluorescent Types
Calibration requirements
Lifting of weight requirements
Method of examination
Magnetizing Intensity Requirements (Gaussmeters, Pie-Shaped Magnetic Particle Field Indicator, Artificial Flaw Shims )
Reporting Requirements
Article 10 - Leak Testing  (Also in API 577)
Testing Medium Requirements
Pressure Gage Requirements
Temp Limitation 
Leak Testing Techniques
Article 9 - Visual Examination (Also in API 577)
Direct Visual Examination Requirements
Light Intensity
Annual vision Test Requirements
Remote Visual Inspection
SE-797 UT Thickness Measurement
Article 4 - Ultrasonic Testing (Also in API 577)
Only Definition and understanding of A, B and C Scans
API 510 Training - API Included Standard and Recommended Practices
API STD 510 - Pressure Vessel Inspection Code: Maintenance Inspection, Rating, Repair, and Alteration - Entire Document but section 9 and appendix E excluded.  
API RP 572, Inspection of Pressure Vessels - Entire Document
API RP 576, Inspection of Pressure-Relieving Devices - Entire Document
API RP 577, Welding Inspection and Metallurgy - Entire Document 
API RP 571, Damage Mechanisms Affecting Fixed Equipment in the Refining Industry
Section 2 Terms and Definitions
3.3 Amine Stress Corrosion Cracking
3.8 Atmospheric Corrosion
3.11 Brittle Fracture
3.14 Caustic Corrosion
3.15 Caustic Stress Corrosion Cracking
3.17 Chloride Stress Corrosion Cracking
3.20 Cooling Water Corrosion
3.22 Corrosion Under Insulation (CUI)
3.27 Erosion/Erosion-Corrosion
3.36 High-temperature Hydrogen Attack
3.37 Hydrochloric Acid Corrosion
3.43 Mechanical Fatigue (including Vibration-induced Fatigue)
3.58 Sour Water Corrosion (Acidic)
3.61 Sulfidation
3.67 Wet H2S Damage (Blistering/HIC/SOHIC/SCC)
ASME PCC-2 - Repair of Pressure Equipment and Piping
Article 201: Butt-Welded Insert Plates in Pressure Components
Article 202: External Weld Buildup to Repair Internal Thinning
Article 209: Alternatives to Postweld Heat Treatment
Article 210: In-Service Welding Onto Carbon Steel Pressure Components or Pipelines
Article 211: Weld Buildup, Weld Overlay, and Clad Restoration
Article 212: Fillet Welded Patches
Article 215: Repair Welding Considerations for Cr-Mo Steel Pressure Vessels
Article 216: Welded Hot Taps in Pressure Equipment or Pipelines
Article 304: Flaw Excavation and Weld Repair
Article 305: Flange Repair and Conversion
Article 312: Inspection and Repair of Shell and Tube Heat Exchangers
Article 501: Pressure and Tightness of Piping and Equipment
Article 502: Nondestructive Examination in Lieu of Pressure Testing for Repairs and
Alternations
Return to I4I Academy
Did you find this article useful? Click on below Like button!