Valve Inspection
The Valve Inspection article provides you with information about the inspection of valves and valve testing in the manufacturing shop as well as in operational plants.You may review valve inspection procedure and valve ITP articles. 
Valve Inspection - Shell Test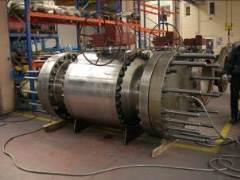 Valve Shell Test or Body test is performed after successful completion of valve individual components e.g. seat, disc, body, stem, etc. inspection and assembly. The test is conducted by valve manufacturer and based on the requirements of API STD 598 ( Valve Inspection and Testing). 
The valve shall be partially open and be able to hold pressure for certain time. The pressure shall not be less than 1.5 times of maximum working pressure. No leakage is allowed. 

Valve Inspection - Seat Leak Test 
The Valve Seat Leak Test (Closure Test) is performed after successful completion of valve shell test (Body Test). One side (valve inlet or outlet) shall be subjected to the hydrostatic pressure and amount of leak shall be measured on the opposite side of the valve.
It means if you are pressurizing valve inlet, then you have to measure the amount of leakage in the outlet. The limited amount of leakage is permissible.  
Valve Backseat Test 
The Valve Backseat Test is performed in the valve with backseat feature. This is a feature that allows valve packing being replaced while it is in the service. In this test, valve shall be fully opened and packing gland shall be loose or not installed. No leakage is permissible in backseat test. 

Pressure Safety Valve Inspection - Are you looking for information about pressure safety valves inspections during the manufacturing process? Or you are looking for in-service inspection in an operating plant?
The pressure safety valve is a direct, spring-loaded pressure-relief valve that is opened by the static pressure upstream of the valve and is characterized by a rapid opening or pop action.
When the static inlet pressure reaches the set pressure, it will increase the pressure upstream of the disk and overcome the spring force on the disk.
Fluid will then enter the huddling chamber, providing additional opening force.

This will cause the disk to lift and provide full opening at minimal overpressure.
The closing pressure will be less than the set pressure and will be reached after the blowdown phase is completed.
This article covers both shop and in-service inspection of the pressure safety valve.
Third Party Inspection for Valve - This content guides you through all the necessary stages in the production of the valves, from the examination of certification of procurement sources to the final inspection, preservation and packing, to the dispatch to site.
It is particularly suitable for the inspection of Gate, Globe, Ball and Check valves. The following points are addressed in this article:
Valve Material Inspection

Valve Welding Inspection

Visual and Dimensional Checking

Valve Low Pressure Air Test

Valve Hydrostatic Testing

Post Hydrostatic Testing

Valve Final Inspection

Valve Name Plate Checking

Valve Painting and Coating Checking

Valve Spare Parts, Loose Items and Accessories control

Valve Packing, Marking and Shipping Inspection
Related Articles
Boiler Inspection, Heat Exchanger Inspection, Pressure Vessel Inspection, Above Ground Storage Tank Inspection, Heater Inspections, Piping Inspection
---
Return from Industrial Valve Inspection to Inspection for Industry Home
---
Did you find this article useful? Click on below Like button!