Industrial Inspection System
Inspection 4 Industry LLC provides industrial inspection services. Review this article about industrial inspection system.
Industrial Inspection System for Shop Inspection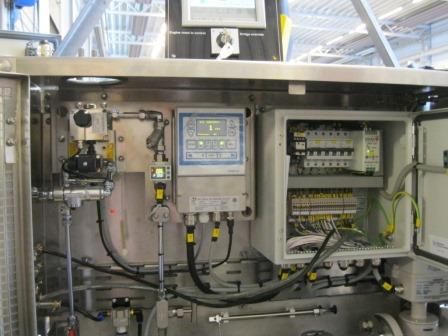 Shop inspection or vendor inspection refer to the activities are carried out by second party inspector or third party inspector in manufacturing shop. For example consider an oil company order for manufacturing of several pumps to a pump manufacture.
So there will be a proforma invoice (PI) and a purchase order (PO), the PI is issued by pump manufacture with detail pumps specification and prices and in the same time PO will be issued by oil company which stating his agreement with specifications and prices and ordering for manufacturing of pumps.
PI and PO are important commercial document.
Before start of the manufacturing process oil company will agree with pump manufacture for inspection process, which normally this process will be done based agreed inspection and test plan.
For more detail review Inspection and Test Plan; article
.In this important document the inspection "hold" and "witness" points will be determined and it will be necessary the pump manufacture notify oil company inspector for such inspection in advance.
Assume the "inspection and test plan" determine 5 inspection points in manufacturing process, such as material certificate review and identification, casing hydro static testing, impeller balancing, performance test and run-out test.
So when manufacture reaches to these points, must notify oil company inspector (in advance) to attend for inspection and testing.
Finally if the result of inspection visits were satisfactory, then the inspector will issue the inspection release note.
This oil company has several options to designate an inspector in its industrial inspection system as following:
Ordering this inspection to the inspection agency, this what is named third party inspection

Or dispatch his own competent inspector to the manufacture shop, this what is named second party inspection

It might there is not direct contract between the oil company and manufacture, and the contract is between the oil company and engineering company;
so the engineering company make contract with pump manufacture then engineering company is responsible for inspection;
if the engineering company uses his own inspector, it will be similar to the second party inspector and if hire the inspection agency it will be third party inspector.
Please note most of the clients such as this oil company mandate the engineering company to hire a third party inspection agency.
Using the "inspector" wording for the engineering company personnel and the name of inspection department in the engineering company are not correct and must be quality control department.
But some of engineering companies name their quality control department as inspection department.
Inspector can be used only for someone who is purchaser employee or purchaser designated person working in the inspection agency.
In industrial inspection system when the inspection is carried out in manufacturing shop, it is named shop inspection.
More detail about shop inspection and referenced code and standard described separately for each equipment type in this site.
Industrial Inspection System for  Preshipment inspection (PSI)
Preshipment inspection or PSI has more commercial approach than to technical approach.
Assume in above example the fund transfer between buyer and Seller Company i.e. oil company and pump manufacture is done through letter of credit (LC). In other means the pumps money will be transfer through the LC and between buyer and seller banks.
Then the LC might mandate a PSI inspection and money will be transferred after delivering of shipping document and inspection certificate to the seller bank.
The seller can receive his money after the shipment which it is not still reached to the buyer premises.
The PSI inspection cannot be done by Oil Company or Engineering Company employee, it is necessary to be done by Third Party Independent Inspection agency.
Preshipment inspection is mandatory by some governments for imported goods to their counties.
The intention is for avoiding of importation of non-conformance quality goods or fighting corruption for correct and real custom declaration.
For more detail review Pre-Shipment Inspection and Third Party Inspection articles.
Industrial Inspection System for Site Inspections
Site inspection or field inspection is carried out in construction site. Consider an oil company wants to construct a new refinery or chemical unit. So for construction activities in unit hire a third party agency or use his own inspectors.

Site inspection activities are related to the process and power piping, storage tanks, steel structures and pipelines construction.
These activates are material receiving inspection, fit up and welding inspection, dimensional control, Nondestructive testing supervision, heat treatment control, test packaging, Hydro static testing supervision and painting inspection.
The supervision and inspection on the installation of the equipment normally is not in the scope of Inspection Company and normally is done by engineering companies.
Industrial Inspection System - In-Service Inspection:
In-service inspection or industrial plant inspection refers to the periodical, shutdown inspection in operating unit and these activities normally will be done by inspection department or integrity department of plant.
More detail about in-service inspection or industrial plant inspection and reference code and standard described separately for each equipment type in this site.
for more detail review Industrial Plant Inspection article.
---
---
Did you find this article useful? Click on below Like button!