Industrial Test Calibration
The Industrial Test Calibration article provides you information about testing equipment, measuring equipment and inspection equipment calibration requirements.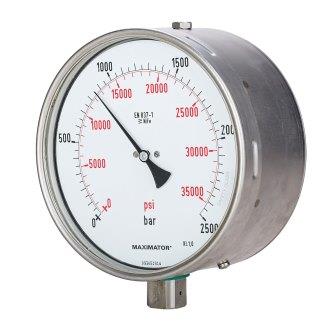 Measuring, inspection and testing equipment calibration is mandated by most construction and in-service codes.
The manufacturer quality control system is needed to define a process for the calibration of measuring and testing equipment to ensure the reading values are correct and accurate.
The calibration must be done in independent laboratory, which is accredited for calibration tests. There is different between calibration and adjustment.
The calibration is done in a reference laboratory, but adjustment is the accurate setting of measuring tool before application.
For example, when you are setting your ultrasonic thickness reading equipment with metallic test block, you are doing adjustment.
But when you are sending your test block to the reference laboratory, you are doing calibration.
The calibration process must be well-defined in a quality control program, and it is necessary that a list of measuring and inspection equipment be available with their calibration status, such as the date of last calibration, expiry date, and acceptable tolerance ranges, etc.
The calibration certificates also need to be available. These are general measuring and inspection tools, which need to be calibrated periodically:
Industrial Test Calibration - Instruments 
Caliper

Steel Tape

Flange Square

Ultrasonic (UT) Thickness Measurement Equipment Test Block

Tube Gauges

Steel Ruler

P

it Depth Gauge

Straightedge

Hook Gauge

Surveyor's Level

MT Inspection Equipment

Micrometer

Three-ball Micrometer for Tube ID Measurement

Radiographic Equipment

Megger Ground Tester

Hardness-Testing Equipment

Eddy Current (ET)Testing Equipment

Sonic and Radiation-Measuring Equipment

UT Flaw-Detection Equipment

Neutron Backscatter Equipment for Moisture Detection

Magnetic Flux Leakage Equipment

etc.
Related Articles:
Industrial Inspection System, Shop Inspection, Industrial Plant Inspection, Third Party Inspection, Factory Acceptance Test, Industrial Quality Control, Industrial Test Systems, Inspection and Test Plan, Inspection Scope, Pre-Shipment Inspection, Goods Inspection, Third Party Inspection Agency, Third Party Independent Inspection, Third Party Quality Inspection, Vendor Inspection Services, Goods Inspection Services, Commodity Inspection Services, Preshipment Inspection Services, 3rd Party Shop Inspection, Third Party Inspection for Material Stamp, Quality Control Plan, Quality Control Manuals for Contractors, Quality Control Manual, Contractor Quality Control Plan, Third Party Inspection Expediting
---
Return from Industrial Test Calibration to Industrial Inspection
Return from Industrial Test Calibration to Inspection for Industry Home
---
Did you find this article useful? Click on below Like button!