Liquid Penetrant Test on Carbon Steel
Liquid penetrant test on carbon steel is done to detect the surface defect. The carbon steel is very common and highly demanded material in the industry.
The test can be done during or after manufacturing process or even can be done to reveal service defect (the defect that originally does not exist and caused by service, e.g., stress corrosion cracking, fatigue cracking, etc. ). The test might not be effective on the porous carbon steel material such as porous casting which causes lots of false indication.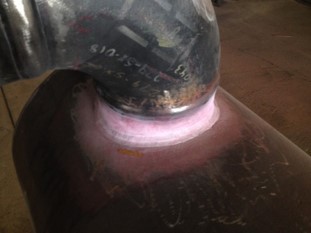 Liquid Penetrant Test on Carbon Steel to Reveal Defects
The liquid penetration test can be done in the carbon steel material with six different types depending on the carbon steel physical shape, expected defects, test object (casting, weld, forging), etc.
There are two major techniques as color contrast (visible), and Fluorescent and each of this technique can be used with three different system like water washable, solvent removable and Lipophilic/hydrophilic emulsification. The color contrast (visible) technique with "water washable" and "solvent removable" systems are the most common liquid penetrant test for the portable application.

The qualified Level II test technician can perform the test at the field by carrying a simple bag or test kit.
The test can reveal the lamination defect on carbon steel plate. The test also can detect surface porosity, hot tear, cold shot and surface shrinkage of the carbon steel casting material.

The liquid penetrant test on carbon steel also detects weld defects such as surface porosity on the welded joint, transverse weld crack, longitudinal weld crack, crater crack, weld undercut, and surface lack of fusion and other surface imperfections.

The test should be performed by a qualified Level II liquid penetrant inspector based on the approved procedure. The written procedure should be approved by an ASNT Level III liquid penetrant test specialist.

The test result shall be evaluated by above-mentioned inspectors against construction code or specified in-service code. For instance, if the subject is a carbon steel pipe circumferential weld (girth weld), then liquid penetrant test result shall be evaluated based on ASME B31.3 acceptance criteria.
Return to Inspection 4 Industry Home
Did you find this article useful? Click on below Like button!