What is the Non-ferrous Materials?
Ferrous and non-ferrous materials are the two broad categories of metals, based on presence and absence of iron as a principle ingredient respectively. Non-ferrous materials can be defined as the material that does not contain iron in an appreciable amount.
Nonferrous metals found their application in the wide variety of industrial and commercial application such as copper in electrical devices, aluminum in structural applications, zirconium as a refractory material, etc. 
Like ferrous materials, non-ferrous materials also make alloys with other metals. For instance, brass and bronze are the typical alloys of copper. 

Non-ferrous Materials - Copper and its Alloys
Copper finds its application in electrical devices and heat exchangers due to high electrical (5.96×107 S/m) and thermal conductivity (385 W/m.K). Pure copper in nonmagnetic is having the tensile strength of 220-413 MPa (32000, 60,000 psi).
Pure copper is not suitable for welding; it 's hard to machine due to its ductility. Copper is used in heat exchangers and boilers due to high heat conductivity. Specifications for seamless copper pipes and tubes standard sizes are given in ASME II part-B SB-42 and SB-75. 
There are more than 400 copper alloys each with the unique combination of properties. The tensile strength of copper alloys is greater than pure copper (50,000-90,000 psi/ 344-620 Mpa). Some of the copper alloys are listed below:
Brass:                   Alloy of copper (50-95%) and zinc (5-50%)
Bronze:                 Alloy of Copper (88%) and Tin (12%)
Copper-Nickel        Alloy of copper (66-90%) and Nickel (10-30%)
Beryllium-copper    Alloy of copper (97-99.5%) and Beryllium (0.5-3%)
Non-ferrous Materials - Aluminum and its Alloys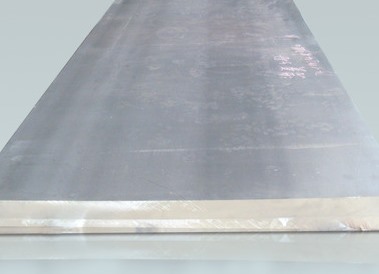 The aluminum is the a non-ferrous material. The light weight of aluminum metal finds its use in oil and gas storage containers and drill pipes, aircraft structures, railway cars, etc. Aluminum has a high tendency for casting, forging, machining, and welding.
The tensile strength of pure aluminum is 41-110 MPa (6000-16000 psi). Specifications for aluminum and aluminum alloy sheets, plates, drawn seamless tubes, bars, rods are given in ASME II part-B.
The Aluminum Association has designated the four digits system for identifying the aluminum alloys. The list of groups of aluminum alloys is given below
Alloy Group    Alloying element
1 xxx    Pure aluminum ( purity 99.0 % or greater)
2 xxx    Copper
3 xxx    Manganese
4 xxx    Silicon
5 xxx    Magnesium
6 xxx    Magnesium & Silicon
7 xxx    Zinc
8 xxx    Other elements
The first digit represents the alloying element while the last "xx" represents the minimum amount of aluminum in the alloy.
For instance, the minimum aluminum content of 1350 is 99.50%. The second digit in the group indicates the minor modification of the basic alloy. 
Non-ferrous Materials - Nickel and Alloys
The high resistance of nickel to corrosion finds its applications in oil and gas production and marine engineering. Both ferrous and nonferrous alloys made up of nickel shows excellent corrosion resistance to chemicals and sour oil and gas environments.
Pure nickel has a tensile strength of 317 Mpa (46000 psi). The nickel alloys have low thermal expansion and low electrical conductivity. Some major types of nickel alloys are iron-nickel-chromium alloy, copper-nickel alloy, nickel-chromium alloy, etc.
The specifications for nickel and nickel alloy plates, sheets, strips bars, rods, pipes, tubes and wires are given in ASME II part-B.  Stainless steel contains nickel as an alloying metal typically 8-10%.
Monel metal is another highly corrosion resistance alloy of nickel with 67% nickel, 29% copper, and small percentages of iron and manganese.
The high nickel content resists the chloride ion stress corrosion cracking. Chromium content confers resistance to corrosion in oxidizing conditions and sulfur compounds. 

Cobalt and its Alloys
Cobalt is temperature resistant with the melting point of 1493 °C (2720 °F). It is used as an alloying element in high-speed tool bits and cutters, creep resistant, high-temperature alloys. Pure cobalt has a tensile strength of 234 Mpa (34000 psi). However, it is seldom used in its pure form.
The tensile strength of cobalt alloy (stellite 21) is high (696 Mpa / 101,000 psi). Cobalt can be machined, cold-drawn and welded. ASME II part-B SB-818 provides the specification for cobalt-chromium-nickel-molybdenum-tungsten alloy plate, sheet and strip. 
Return to Industrial Inspection
Did you find this article useful? Click on below Like button!