Switchgear Testing / Switchgear FAT Test
The switchgear testing (FAT Test) is performed after successful completion of assembly inspection. You may also review the switchgear step by step assembly inspection and testing instruction.
Mechanical Operation Test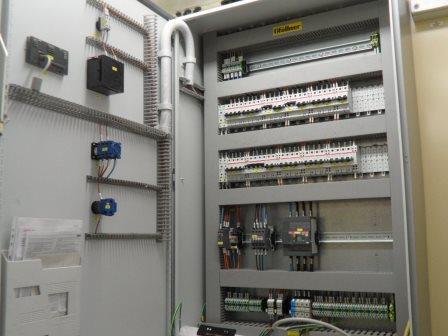 The mechanical operations of draw-out mechanism, switching mechanism, shutter mechanism, earthing facility mechanism and the mechanical interlocks shall be verified to be normal. The unit of the same size with draw-out mechanism shall have interchangeability.

Sequence Test
The electrical sequential operation of devices shall be tested to ensure that the electrical systems within the switchgear and MCC are of proper structure and connected per the approved schematic diagram and that they work normally.

Electrical Operation Test

Electrical operation test for equipment installed in switchgear and MCC (circuit breakers, magnetic contactors, switches, and relays, etc.), shall be carried out together by providing the combination of simulated input and the output circuit, and it shall be verified that the operation is normal, as per IEC 60439, 8.3.1.

Insulation Resistance Test
The insulation resistance shall be measured before and after voltage withstand test.  The measuring shall be carried out by 500 V insulation resistance tester (or as specified in the approved procedure), and the measuring places and allowable insulation resistance value for each group of MCC shall be as follows or specified values: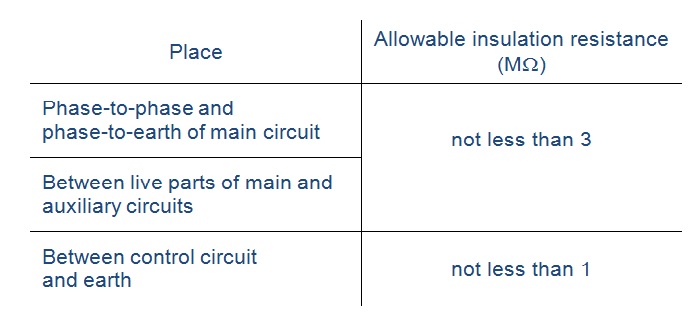 For the testing earthed circuit, the connection to the earth shall be removed before the test.

Voltage Withstand Test @ Switchgear Testing
After the insulation resistance test, voltage withstand tests for main circuit and control circuit shall be carried out, and no electrical or mechanical defects shall be found. The specified commercial frequency test voltage shall be applied between live parts and earth for specified duration.
For the testing earthed circuit, the connection to the earth, shall be removed prior to the test.  Furthermore, when electronic equipment for control or signal and electronic instrument or DC control equipment are included in the control circuit, they shall be disconnected or removed during the test.

Return to Switchgear Inspection
Did you find this article useful? Click on below Like button!