BS STD Packing Procedure
BS STD Packing Procedure article provides you information about BS 1133-8:2011 Packaging code and the related packing procedure.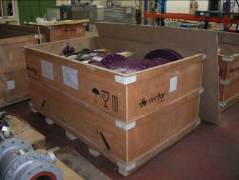 The BS 1133-8:2011 Packaging code gives guidance on wooden boxes, cases and crates and provides the most well-known and comprehensive construction standard for boxes, cases and crates, which are used for packaging and shipment of industrial goods.
Most of the engineering companies and industrial equipment manufacturers prepare and draft their packing procedure based of the requirement of the BS 1133-8:2011.
For more detail, you may review the Seaworthy Packing Procedure article, which is drafted based on the BS 1133-8 requirements.
The engineering companies or purchasers will either give their own packing and marking procedures, along with other specifications to the equipment manufacturer, or they will ask the manufacturer to provide their standard procedures and specifications, so that their company can review and approve them.
Most equipment manufacturers subcontract the packing to specialized packing companies.
BS STD Packing Procedure - Large Scale Projects 
In big procurement projects, submitting the packing procedure is very popular. But in small projects or single purchases, sometimes there is no packing procedure in place, and this might cause a dispute between the purchaser, seller and third party inspector (if any).

There have been many cases of damage to transported equipment because of inappropriate packing type, lack of quality in construction and bad packing material.
When the purchase of equipment is through the letter of credit, and the buyer and the seller agree on doing preshipment inspection, then a packing inspection will be included in the scope of the inspection.
A third party inspector must inspect the packing based the approved packing procedure, and in the case that there is no packing procedure, then he/she must inspect based on the BS 1133-8 requirement and report any non-conformity.
Then it will be the responsibility of the purchaser to accept non-conformity or request that the seller carry our correct packing. As stated above, most typical packing procedures are based on BS standard, and that is the reason it is named the BS STD Packing Procedure.
Related Articles
Goods Inspection, Finished Goods Inspection, Inspection Scope,Quality Control in Packaging, Establishment Inspection Report, Container Shipping Seals, Third Party Inspection, Third Party Inspection Services, Third Party Inspection Agency, Third Party Independent Inspection, Third Party Quality Inspection, Shop Inspection, Inspection and Test Plan, Industrial Inspection, Factory Acceptance Test, Industrial Quality Control
---
Return from BS STD Packing Procedure to Pre-Shipment Inspection
Return from BS STD Packing Procedure to Inspection for Industry Home
---
Did you find this article useful? Click on below Like button!