Inspection of Packing
This article on the inspection of packing will provide you with information about packing inspection of industrial equipment that is ready for shipment.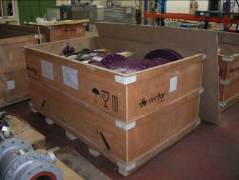 Wooden cases, crates, skid bases or saddles, bundles, shrink packaging and drums are widely used for packing of industrial goods.
The purchaser must provide the packing procedure to the equipment manufacturer, and the manufacturer's quality control team must take care of packaging process.
Most of packing procedure are prepared based the BS 1133-8 requirements. The purchaser inspector either second party or third party inspector must carefully inspect the packing based the approved procedure.
When there is no procedure in place, the packing must be inspected directly based the requirements of BS 1138-8 requirements.
For a sample packing procedure, please review the Seaworthy Packing Procedure article.
Most packing falls in two categories: the first one is that the nature of equipment is different for each order and the equipment manufacturer needs to deliver drawings and other information to the packing company for construction.
The other is that the equipment is in unique size and not dependent to the order. In this case, the manufacturers will purchase cases or crates and will do the packing with their own workers.
Inspection of Packing - Important Points
Correct application of material for padding or cushioning such as felt, cellophane paper, polyester cuttings and crepe cellulose
Correct package tag (i.e. PO No., LC No., JOB No., etc.)
Related Articles:
Preshipment Inspection, Goods Inspection, Finished Goods Inspection, Inspection Scope, Quality Control in Packaging, BS STD Packing Procedure, Establishment Inspection Report, Container Shipping Seals, Third Party Inspection, Third Party Inspection Services, Third Party Inspection Agency, Third Party Independent Inspection, Third Party Quality Inspection, Shop Inspection, Inspection and Test Plan, Industrial Inspection, Factory Acceptance Test, Industrial Quality Control
---
Return from Inspection of Packing to Pre-Shipment Inspection
Return from Inspection of Packing to Inspection for Industry Home
---
Did you find this article useful? Click on below Like button!